Favorite?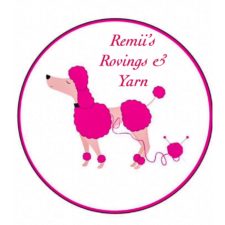 Arlene is the Canadian owner/creator behind Remii's Rovings & Yarn, which offers gorgeous hand-dyed yarns with a lot of other supplies like stitch markers, enamel pins, and buttons for knitting, sewing and crochet.
http://RemiisRovingsandYarn.etsy.com
Features
This maker's artistry has the following features. To see other makers in this database who offer the same features, click the links below.
Yarn Fiber: Alpaca, BFL, Cashmere, Corriedale, Donegal, Highland, Merino, Mohair, Peru. Highland, Silk, Wool
Color Style: Gradient, Marled, Self-Striping, Semi-Solid/Tonal, Solids, Tweed, Variegated
Dye Type: Acid
Fiber Origin: Canada
Spinning Fiber in: Roving
Inventories and links change frequently, so Yarn Database will always be a bit of a UFO. Do you have a minute to
offer corrections to this information
?