Favorite?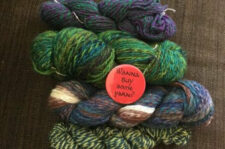 Terry Karney says, "I make yarn. I like fiber, I don't leave the house without a book, a spindle, and a camera." Offerings include yarns spun specifically for knitting, crochet and weaving, and Terry takes custom orders, mainly for wheel-spun yarns. In addition to yarn, Terry offers divine readymade woven scarves.
https://www.clothoscorner.com
Some items featured on Yarn Database may include affiliate links. Yarn Database earns a commission from these links that is used to further this site's goals of inclusivity and accessibility. This commission does not affect the seller's income.
Sample Yarn/Fiber Gallery
To see all yarn/fiber by this maker, use the URL above.
These photos are presented to illustrate the maker's personal style and color aesthetic. They may not reflect current stock.

Unicorn Mane (light)


Racing Stripe Scarf


Candy Cane




Features
This maker's artistry has the following features. To see other makers in this database who offer the same features, click the links below.
Yarn Fiber: Alpaca, Angora, Bamboo, BFL, Camel, Casein, Cashmere, Cheviot, Coopworth, Cormo, Corriedale, Cotswold, CVM, Dorset, Eri Silk, Finn, Gotland, Hampshire, Hebridean, Icelandic, Linen, Llama, Manx Loagh., Merino, Mint, Mohair, Muga Silk, Mulberry Silk, Polwarth, Qiviut, Rambouillet, Romney, Rose, SeaCell, Shetland, Silk, Southdown, Suffolk, Targhee, Teeswater, Tencel, Tussah Silk, Wensleydale, Wool, Yak, Zwartbles
Color Style: Gradient, Hand-Painted, Marled, Self-Striping, Semi-Solid/Tonal, Solids, Tweed, Variegated
Fiber Origin: Asia, Canada, Europe, S. America, US
This Business is: Disabled-Owned