Favorite?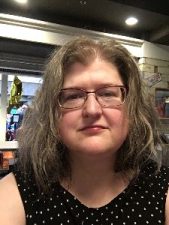 Janelle Martin has been knitting for more than 35 years. "I never expected to get into designing until a friend challenged me to try it. Ten years later, and I'm still excited that I get to share this passion through my designs and as a knitting instructor," Janelle says. "My ongoing fascination is with Japanese stitch patterns and architectural detailing. My hand knitwear designs possess an organic feel with stitch patterns flowing one into the next. If I'm not knitting, I'm probably reading with my cats."
https://payhip.com/EclecticCloset
Follow on Twitter:
@Antheras
Follow on Instagram:
@Antheras68
Some items featured below may include affiliate links. Yarn Database earns a commission from these links that is used to further this site's goals of inclusivity and accessibility. This commission does not affect the seller's income.
Sample Pattern Gallery
To see all patterns by this designer, use the URL above.
Below are photos of a few representative patterns (with direct links to pattern pages) to give you a sense of the designer's work.
Features
This maker's artistry has the following features. To see other makers in this database who offer the same features, click the links below.