Favorite?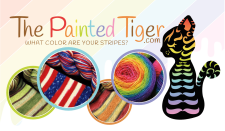 The Painted Tiger has been dyeing small batch hand dyed yarn and fiber since 2004. "Our online shop offers self-striping yarn (including our best selling 'Grand Old Flag') and gradients in both yarn and fiber," Brooke says. "Tiger Yarn and Fiber Clubs of the Month also offer variegated, tonal, speckle, and other methods of adding color to your life. I love mixing my own colors from the primaries to make something unique and special for you!" Exceptional.
https://ThePaintedTiger.com
Some items featured below may include affiliate links. Yarn Database earns a commission from these links that is used to further this site's goals of inclusivity and accessibility. This commission does not affect the seller's income.
Features
This maker's artistry has the following features. To see other makers in this database who offer the same features, click the links below.
Yarn Fiber: Bamboo, BFL, Cashmere, Corriedale, Cotton, Merino, Rambouillet, Silk, Targhee, Tussah Silk, Wool
Color Style: Gradient, Hand-Painted, Self-Striping, Semi-Solid/Tonal, Tweed, Variegated
Dye Type: Acid, Fiber Reactive
Fiber Origin: US
Spinning Fiber: Alpaca, Bamboo, BFL, Camel, Cashmere, Cheviot, Corriedale, Dorset Horn, Finn, Gotland, Masham, Merino, Mulberry Silk, Nylon, Perendale, Polwarth, Rambouillet, Romney, Shetland, Silk, Targhee, Tencel, Tussah Silk, Wensleydale, WF Woodland, Wool