Favorite?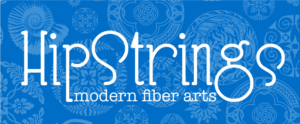 HipStrings sells beautiful spinning fiber and yarn. It is also a maker of tools for spinning, knitting, crochet and weaving. Custom fiber blends are available, along with hand-dyed yarns. Kit section contains one clearly marked link to Ravelry. Dyes are heavy-metal-free.
http://www.hipstrings.com
Features
This maker's artistry has the following features. To see other makers in this database who offer the same features, click the links below.
Color Style: Semi-Solid/Tonal, Variegated
Dye Type: Acid, Fiber Reactive
Fiber Origin: South Africa, UK, US
Spinning Fiber: Alpaca, Bamboo, BFL, Bord. Leicester, Camel, Cashmere, Corriedale, Cotton, CVM, Eri Silk, Finn, Linen, Manx Loagh., Merino, Mint, Mohair, Mulberry Silk, Nylon, Polwarth, Rambouillet, Romney, Shetland, Silk, Targhee, Tussah Silk, Welsh Mountain, Wool, Yak, Zwartbles