Favorite?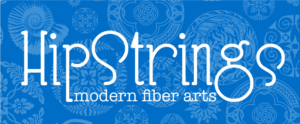 HipStrings sells beautiful spinning fiber and yarn. It is also a maker of tools for spinning, knitting, crochet and weaving. Custom fiber blends are available, along with hand-dyed yarns. Kit section contains one clearly marked link to Ravelry. Dyes are heavy-metal-free.
http://www.hipstrings.com
Features
This maker's artistry has the following features. To see other makers in this database who offer the same features, click the links below.
Color Style: Semi-Solid/Tonal, Variegated
Dye Type: Acid, Fiber Reactive
Fiber Origin: South Africa, UK, US
Spinning Fiber: Alpaca, Bamboo, BFL, Bord. Leicester, Camel, Cashmere, Corriedale, Cotton, CVM, Eri Silk, Finn, Linen, Manx Loagh., Merino, Mint, Mohair, Mulberry Silk, Nylon, Polwarth, Rambouillet, Romney, Shetland, Silk, Targhee, Tussah Silk, Welsh Mountain, Wool, Yak, Zwartbles
Inventories and links change frequently, so Yarn Database will always be a bit of a UFO. Do you have a minute to
offer corrections to this information
?