Favorite?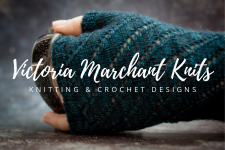 "Passionate about inclusivity, infatuated with texture and colour, and a fan of making life easy, I produce clearly written patterns in multiply accessible formats that produce beautiful results without too much fuss," Victoria Marchant says. "You'll find them all on my website along with my blog, which covers all sorts of usefulness including the yarn weight calculator, my Airtable base for stash and project logging, and a growing collection of how-to guides."
https://www.victoriamarchantknits.com
Sample Pattern Gallery
To see all patterns by this designer, use the URL above.
Below are photos of a few representative patterns (with direct links to pattern pages) to give you a sense of the designer's work.
Features
This maker's artistry has the following features. To see other makers in this database who offer the same features, click the links below.