Favorite?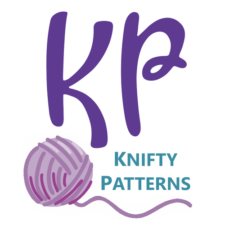 Knifty Patterns designs really adorable bootie patterns for little ones, as well as ornaments and accessories. Sports themes, playful lookalikes, and some seriously beautiful traditional knits. "I'm  variously, a knitter, a designer, a tech editor, and a test knitter," Kathie says. "My husband thinks I have way too much yarn. I disagree." You can find Knifty Patterns on LoveCrafts, Payhip and Etsy.
https://payhip.com/KniftyPatterns
https://www.lovecrafts.com/en-us/user/maker/7e976559-b03f-4b7d-9517-d16f28aecb7c
Follow on Instagram:
@KniftyPatterns
Follow on Facebook:
@KniftyPatterns
Sample Pattern Gallery
To see all patterns by this designer, use the URL above.
Below are photos of a few representative patterns (with direct links to pattern pages) to give you a sense of the designer's work.
Features
This maker's artistry has the following features. To see other makers in this database who offer the same features, click the links below.