Favorite?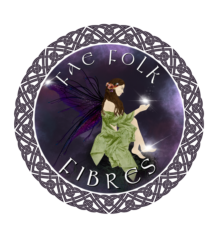 Fae Folk Fibres takes inspiration from myths, legends and history of the British Isles and beyond. UK dyer Shadow dyes exclusive single batches of colorways on luxurious blends of sock, 4ply/fingering weight and DK bases. Shadow is an experienced dyer, formerly dyeing as Felt Fusion. Dyeing is done from Shadow's home in the East Midlands of England. Fae Folk Fibres welcomes wholesale orders for custom colorways. NOTE: There is a slight bit of motion as the home page loads.
http://FaeFolkFibres.com
Follow on Instagram:
@FaeFolkFibres
Follow on Facebook:
@FaeFolkFibres
Some items featured below may include affiliate links. Yarn Database earns a commission from these links that is used to further this site's goals of inclusivity and accessibility. This commission does not affect the seller's income.
Sample Yarn/Fiber Gallery
To see all yarn/fiber by this maker, use the URL above.
These photos are presented to illustrate the maker's personal style and color aesthetic. They may not reflect current stock.
Features
This maker's artistry has the following features. To see other makers in this database who offer the same features, click the links below.