Favorite?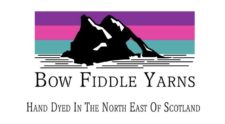 Louise is based in the North East of Scotland and the dyer behind Bow Fiddle Yarns. Named after a local rock formation, Bow Fiddle Yarns is inspired by local landmarks that translate into vivid colors on a variety of superwash merino, alpaca and silk bases. Louise has added accessories such as yarn cozies, stitch markers and shawl cuffs to her range and is now dipping her toe into writing Tunisian crochet and knitting patterns. This maker has 150-gram maxi skeins for those projects that teeter on the edge of needing more than the standard 100 grams. The Gallery page contains marked links to Ravelry.
http://www.bowfiddleyarns.com
Follow on Instagram:
@BowFiddleYarns
Follow on Facebook:
@BowFiddleYarns
Some items featured below may include affiliate links. Yarn Database earns a commission from these links that is used to further this site's goals of inclusivity and accessibility. This commission does not affect the seller's income.
Sample Pattern Gallery
To see all patterns by this designer, use the URL above.
Below are photos of a few representative patterns (with direct links to pattern pages) to give you a sense of the designer's work.
Sample Yarn/Fiber Gallery
To see all yarn/fiber by this maker, use the URL above.
These photos are presented to illustrate the maker's personal style and color aesthetic. They may not reflect current stock.
Features
This maker's artistry has the following features. To see other makers in this database who offer the same features, click the links below.