Favorite?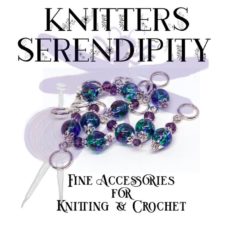 Knitter's Serendipity features beautifully crafted stitch markers and progress keepers for knitting and crochet. Designs are inspired by 1950s vintage beaded jewelry. Serendipity markers are snag free, made from quality jewelry findings, glass, crystal and vintage beads.
https://KnittersSerendipity.etsy.com
Features
This maker offers the following items and qualities. To see other makers who offer the same, click the associated link below.
Inventories and links change frequently, so Yarn Database will always be a bit of a UFO. Do you have a minute to
offer corrections to this information
?