Favorite?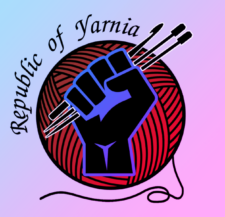 Irish dyer Mary (aka MRO) of Republic of Yarnia is a literary historian who specializes in the Middle Ages. "It just so happens that I really love crocheting and knitting, too, and I decided to marry two of my passions: crafting and medieval studies!" Mary says. "As a woman of color (born on settler land in Canada, my roots are from the Afro/Indo Caribbean diasporas), I've always been intrigued by hidden figures in the period I research. Some of the colorways of these figures inspired me to start this journey dyeing yarn based on these beautiful figures who are often overlooked or forgotten." Gorgeous, clever colorways on lots of bases.
https://www.republicofyarnia.com
Follow on YouTube:
RepublicOfYarnia
Follow on Twitter:
@ISASaxonists
Follow on Instagram:
@Republic_of_Yarnia
Some items featured below may include affiliate links. Yarn Database earns a commission from these links that is used to further this site's goals of inclusivity and accessibility. This commission does not affect the seller's income.
Sample Yarn/Fiber Gallery
To see all yarn/fiber by this maker, use the URL above.
These photos are presented to illustrate the maker's personal style and color aesthetic. They may not reflect current stock.
Features
This maker's artistry has the following features. To see other makers in this database who offer the same features, click the links below.