Favorite?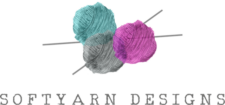 Lena Mathisson of Softyarn Designs says, "My patterns for hats, shawls, sweaters, and more are designed to be clear and easy to follow, with detailed instructions so that knitting is relaxing, not stressful, and you will have a project that you are happy with." Patterns for beginners as well as more experienced knitters. Sweaters are always size-inclusive, most hat patterns include multiple sizes, and shawls often have options to increase or decrease the size. "I love responding to knitters' questions. I want you to enjoy making your project and using it, too!" Lena says.
https://softyarndesigns.etsy.com
Follow on Instagram:
@SoftYarnDesigns
Follow on Facebook:
@SoftYarnDesigns
Some items featured below may include affiliate links. Yarn Database earns a commission from these links that is used to further this site's goals of inclusivity and accessibility. This commission does not affect the seller's income from any sales.
Sample Pattern Gallery
To see all patterns by this designer, use the URL above.
Below are photos of a few representative patterns (with direct links to pattern pages) to give you a sense of the designer's work.
Features
This maker's artistry has the following features. To see other makers in this database who offer the same features, click the links below.