Favorite?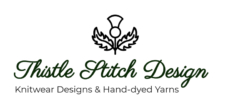 Wynna at Thistle Stitch Design offers cute designs, beautiful hand-dyed colors and other crafting accessories, too. Scores of really cute stitch markers and progress keepers in a variety of styles.
http://www.thistlestitchdesign.myshopify.com
Sample Accessories
To see all accessories by this maker, use the URL above.
These photos are presented to illustrate the maker's personal style and aesthetic. They may not reflect current stock.

Ribbon Stitch Markers


Faux Gem Stitch Markers


Pastries


Rainbow Tassel Stitch Markers

Features
This maker offers the following items and qualities. To see other makers who offer the same, click the associated link below.